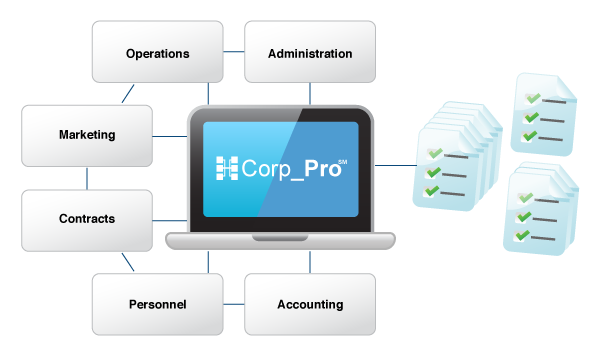 Built from the ground up to be DCAA compliant, Corp_Pro℠ is designed to meet the critical accounting, back-office, and operations needs and challenges of the most demanding government contractors. Corp_Pro℠ offers a comprehensive and cost-effective solution to businesses that are new to government contracting and that need a scalable accounting and enterprise system that will grow with them.
Read about who needs Corp_Pro℠

See how Corp_Pro℠ compares to the competition
Corp_Pro℠ delivers:
A scalable, online platform with no start-up costs
Corp_Pro℠ is hosted online, and does not require the purchase or installation of any hardware or software, enabling businesses to become operational overnight. Corp_Pro℠ is designed to meet the needs of fast-growing companies, with the integrated tools to efficiently expand operations and workflow capacity.
Instantaneous DCAA compliance*
Corp_Pro℠ has built-in DCAA, FAR, and CAS-compliant job cost accrual accounting and timekeeping. Businesses that switch to Corp_ProSM are immediately prepared for a DCAA audit.
Built-in enterprise management
Unlike platforms that charge for add-on modules, Corp_Pro℠ comes delivered as a comprehensive system with the critical tools required for operations and workflow management. Corp_Pro℠ is the turn-key solution that allows customers to seamlessly integrate HR, contracts, marketing, inventory, and more. It provides field-tested workflow controls, processes, and procedures that ensure efficiency, minimize fraud, and promote QA.
Paperless document storage
Corp_Pro℠ has online document storage for vendor invoices, employment agreements, contracts, proposals, client invoices, and more. Files are password protected for security, and easy to find and to retrieve.
Accounting and government contracting expertise
The Corp_Pro℠ team is comprised of experts with years of experience counseling clients in accounting, tax, DCAA compliance, government contracting, small business management, proposal writing, and human resources.
To fully comply with DCAA regulations, government contractors require a long list of critical tools, reporting, and policies and procedures. With other platforms, many of these critical functions are either add-on modules that cost more or are just not available. With built-in accounting tools, contracts management, process control, facilities and personnel management, document storage, and much more, Corp_Pro℠ is the most comprehensive DCAA compliant platform on the market—a one-stop shop for government contractors.
*The DCAA does not endorse or approve accounting software. Corp_Pro℠ is built around Federal Acquisition Regulation (FAR) rules to meet the Defense Contract Audit Agency's (DCAA's) accounting requirements for government contractors. Government contractors using Corp_ProSM have consistently and efficiently passed DCAA audits for more than 10 years.